www.noblevision888.com is a web site focused on the sale of LED Lamps, Bluetooth Mirror etc.
This client wanted his site to do 2 things, he wanted a site where he could tell a lot about the products and at the same be able to sell the products in whole sale  quantity.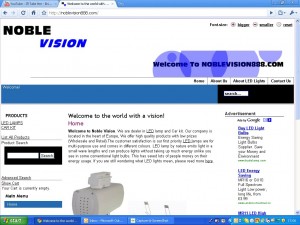 We provided the following services:
Domain registration and hosting was provided by us
We installed and fully customized one of the best CMS systems for this client (Joomla)
We added up a shopping cart in the form of Virtue Mart to handle the orders online.
We stocked up the shop online using product images and descriptions provided by the client.
We trained the client on how to manage his site.